Bulk OEM MANUFACTURING
WHO ARE WE?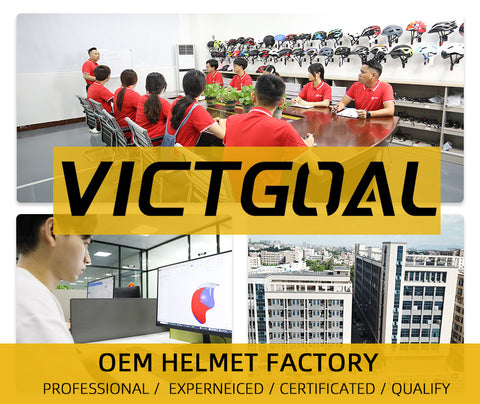 Knowledgeable Helmet Manufacturer
VICTRGOAL Sports is a helmet manufacturer, with more than 10 years experience in producing all types of helmets. In-house design and R&D teams with established experience, allows VICTGOAL Sports to quickly answer to demanding requirements and create from scratch whole programs and collections with rigorous quality standards.  Being located on Dongguan, China with one-stop, integrated manufacturing operation, VICTGOAL Sports has successfully built strong relationships with satisfied clients worldwide and manufactures helmets for retailers, branded helmet companies and manufacturers.
Best in Class Helmet Manufacturing Solutions
VICTGOAL Sports show room is located in Dongguan, main factory is located in Dongguan China, and conveniently connected to . VICTGOAL Sports made helmets are more than just cost effective; Our facilities meet rigorous quality standards and workers are educated, certified and managed by both Western and Asian helmet manufacturing specialists.
As a key player in helmet industry, VICTGOAL Sports has 6 different assembly factories in China to produce certified different branded helmets.
VICTGOAL Sports has establish a recognized expertise in producing various helmets such as bicycle, ski, skateboard, horse riding, Para motor, rock climbing, inline skate, ice speed, etc.
The Information System Advantage in Today's Helmet Industry
VICTGOAL Sports factories are equipped with state of the art information systems, and cutting edge Internet technology. This enables a seamless manufacturing process of production including:
Product Design and Engineering
Innovative Products
Prototyping (CNC machining, stereo lithography)
Design for Optimum Production
Advanced Product Technology
Manufacturing and Supply Chain Service