FAQs of VICTGOAL Bike Light Set VA005
Dear Customers,
Thank you so much for ordering the VICTGOAL bike light set Model VA005, it is our remarkable products with high performance features.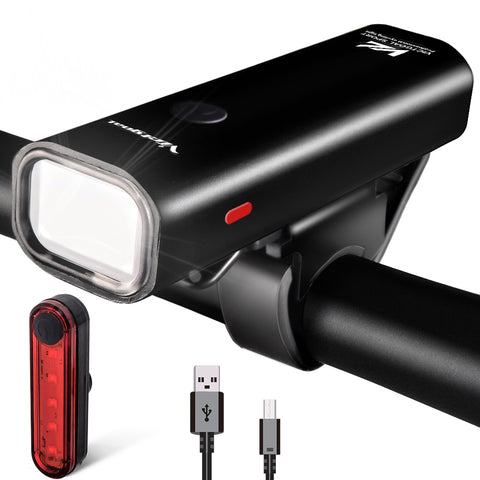 Please kindly watch the videos below, it will help you to know how to install and use our bike light set.
Q1: What is included in the bike light?
A1: Here is the packaging list:
front light *1
rear light *1
front light support *1
rear light band *1
usb charging cable *2
manual *2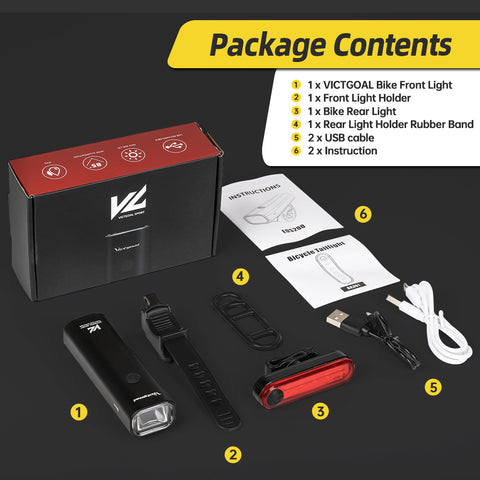 Q2: How to install the rear light?
A2: Please read the manual of the rear light or watch the videos below, just easy insert the rubber band into the hook base.
Q3. Why the rear light is different from the early buyers' review?
A3: Right now the rear light is our upgraded model, it is much more powerful, bright and durable than the early model of the rear light, we had freely upgraded the rear light in the last year, it can be working as the rear light not only in bicycle, we can attach the led light in our backpack, handlerbar and many places.
Q4. How to switch the light mode?
A4. Total 4 modes
single press: strong light / weak light
long press: flashing / blasting flashing
Q5. How bright is the light?
A5. Please read the manual, it provides the details specification, the highest bright of the front light is 400 lumen at the strongest flash mode.
Q6. How long does the light last?
A6. Depends on the light modes that you are using, it can last for 3 - 10 hours.
Q7. How to know the light is fully charged?
A7. There is overcharged protection inside our bike light, and when the indiciator light turn green, the light is charged completely. The charging time will be around 5 hours
Q8. How can I contact the customer service?
A8. You can send the message to us on different sale platform or send the direct emails to our customers service email cs@victgoal.com, our cs team will get back to you in 24 hours.
Also you can leave your information in the form below.