Buy with Confidence

Excellent Support

Worldwide Reachable
Regular price
$75.99 USD
Sale price
$49.99 USD
Unit price
per
Sale
Sold out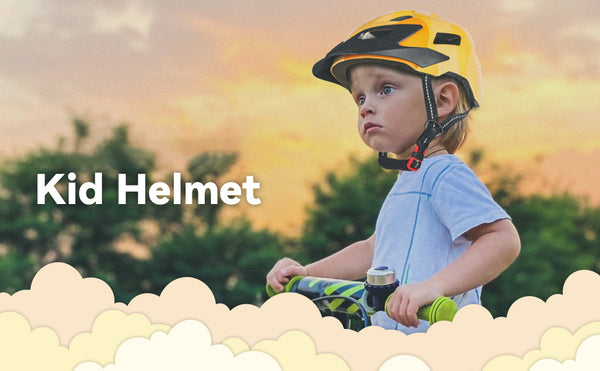 1.EASY SIZING ADJUSTMENT & MORE SUITABLE:

The length of the chin strap of this children's riding helmet can be adjusted to ensure that you can wear it perfectly and safely.
The size of the helmet is designed to be 52-56CM/20.5"-22".
Note: Please measure your child's head circumference before buying, so as not to buy an inappropriate bicycle helme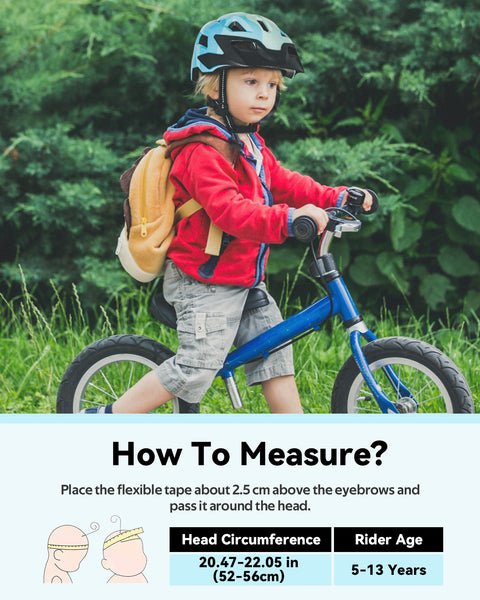 2.HIGHLY BREATHABLE & MORE COMFORTABLE
There are 6 vent holes on the top of the children's bicycle helmet, which can allow sufficient air flow inside the children's helmet to ensure that the child stays safe and cool during exercise.
Larger and softer lining paddings can keep kids more comfortable in long-time using.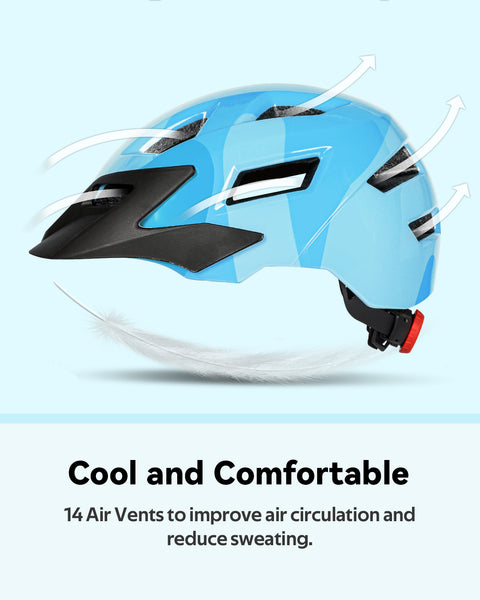 3.HIGH-QUALITY MATERIALS & STRONG PROTECTIVE
VICTGOAL Children's bicycle helmets are adopting high-quality cushioning materials, which have excellent impact resistance.
The high-toughness shell body can withstand huge impact without damage, and effectively protect children's head.
The 

integrated structure can greatly protect our kids' heads in accident, it will provide the high performance of impact buffering and pressure absorbing.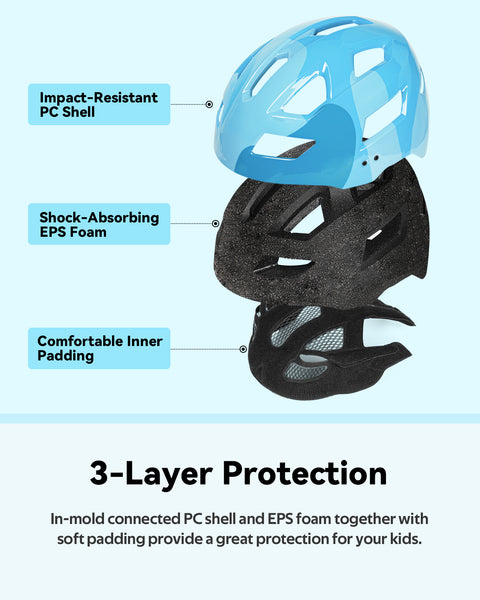 4. LIGHTER + GREENER + HEALTHIER
Made of bright colors with a cute, brave, and dynamic design , which makes children full of courage and vitality to explore nature.
VICTGOAL kids helmet weighs only 0.5 pounds, so light that it will not bring any burden on kid's head.
All raw material and printing are environmentally friendly, non-toxic and tasteless, we are protecting kids in every aspect.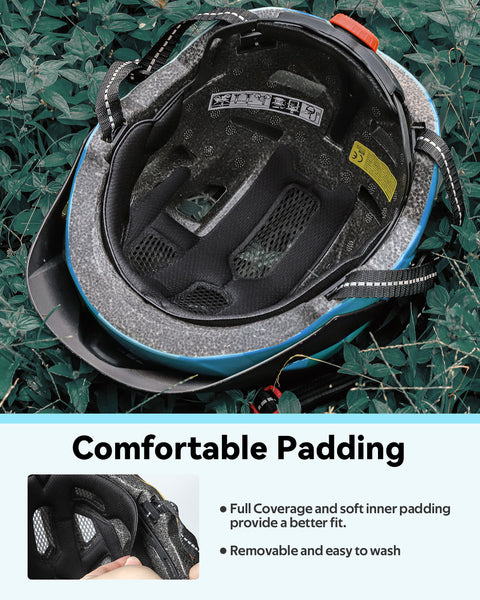 5. MULTI-FUNCTIONAL SPORTS EQUIPMENT
Our VICTGOAL helmet is suitable for a variety of children's sports, including bicycles, skateboards, scooters, roller skating, protective gear, roller skating, inline skating, bicycle balance, etc.
No matter what kind of sport children want to engage in, this helmet is suitable to provide solid and professional protection.
Please remind your kids to wear a helmet in cycling, skating and other outdoor sports.
Brand Story
Warranty Registration
Share
View full details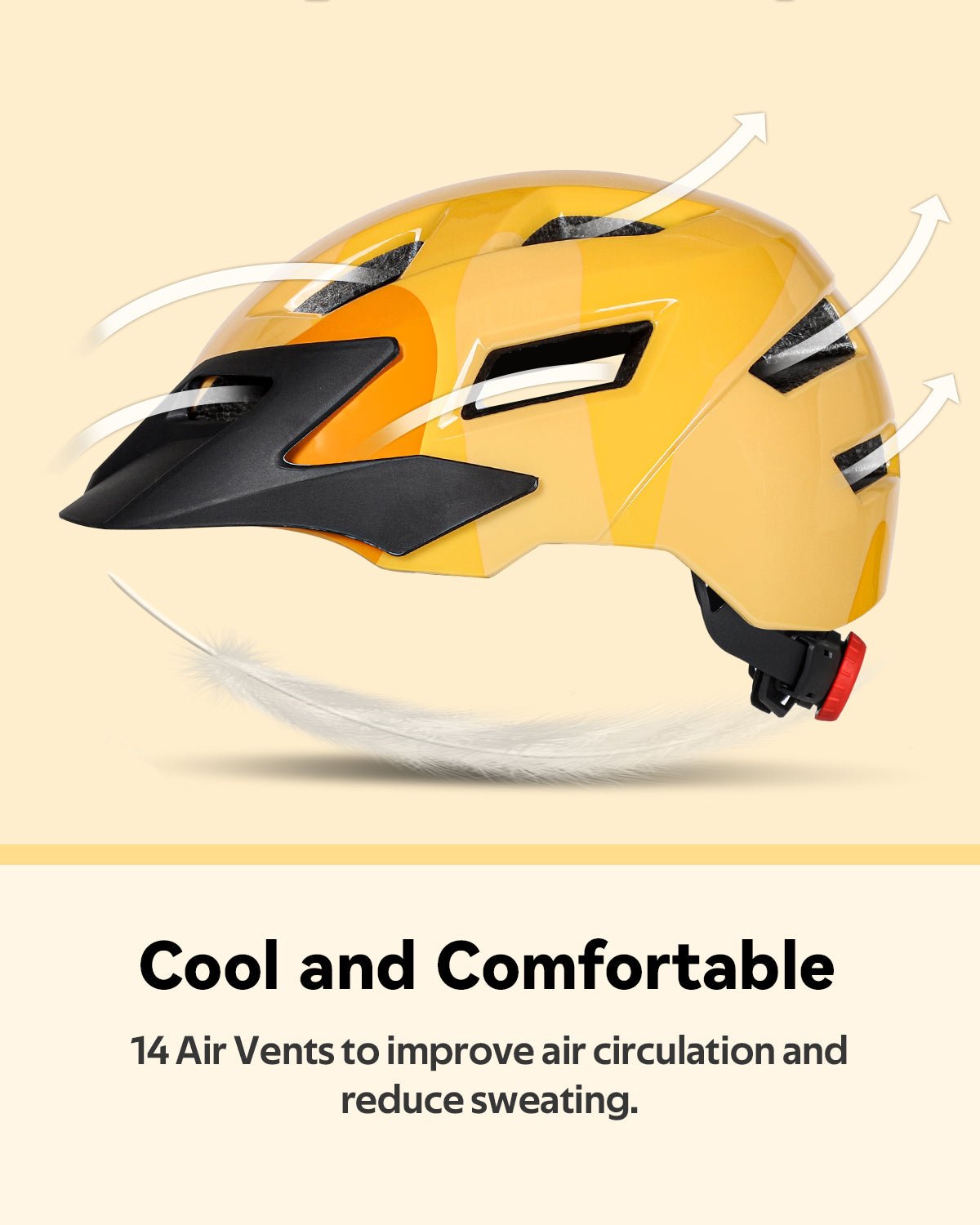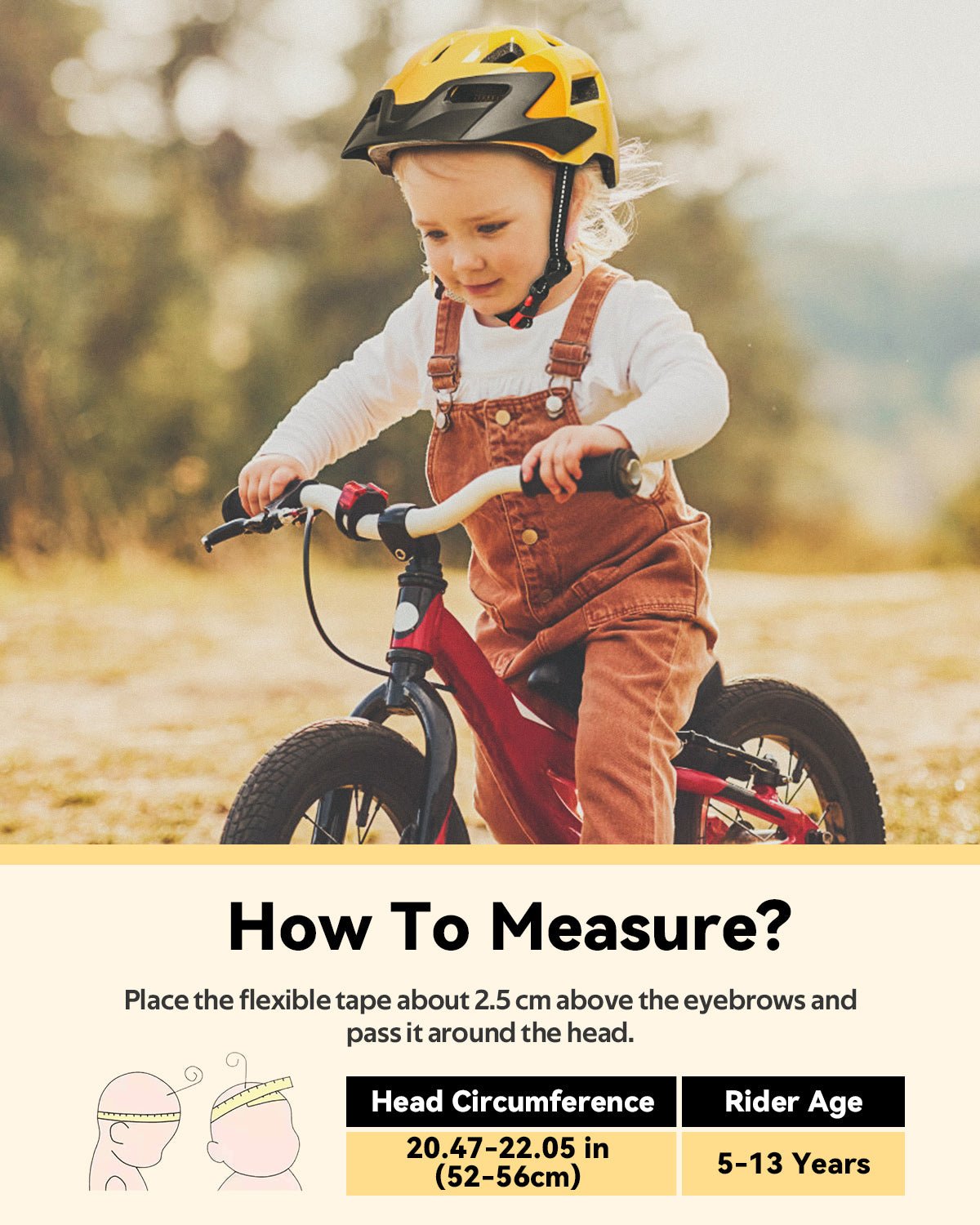 Brand Story of VICTGOAL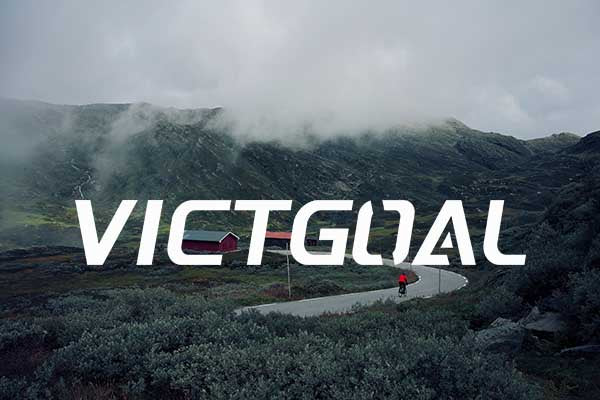 In the vast realm of cycling, a visionary team of passionate cyclists came together to create a brand that would revolutionize the industry. We recognized the need for a cycling equipments that not only excelled in performance and quality but also embraced a deep commitment to environmental protection, sustainable development, a low-carbon & health lifestyle.

 
To Make A Positive Impact On The World, One Pedal Stroke At A Time.
Our brand story begins with a profound respect for the Earth's delicate ecosystems. We understand that the beauty of cycling lies in the harmony between humans and nature.From day one, we made a solemn vow to prioritize environmental protection in everything we do.
To Make A Better World And Planet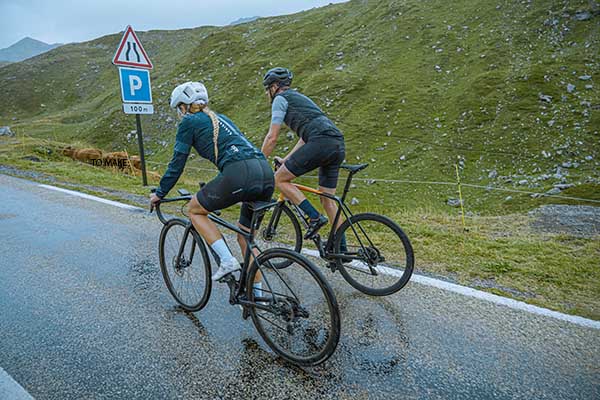 To fulfill this promise, we carefully select eco-friendly materials and manufacturing processes for our bicycle helmets. We have forged strong partnerships with suppliers who share our commitment to sustainability. Our helmets are crafted from recycled materials, ensuring that valuable resources are given a second life instead of being discarded. By utilizing renewable energy sources throughout our production chain, we strive to minimize energy consumption and reduce carbon emissions.
However, our brand is not solely focused on environmental protection; we also have a deep appreciation for the well-being of our customers. We believe that a low-carbon lifestyle and health and fitness go hand in hand. Our bicycle helmets are not just protective gear; they are designed to inspire and empower individuals to embrace an active and healthy lifestyle.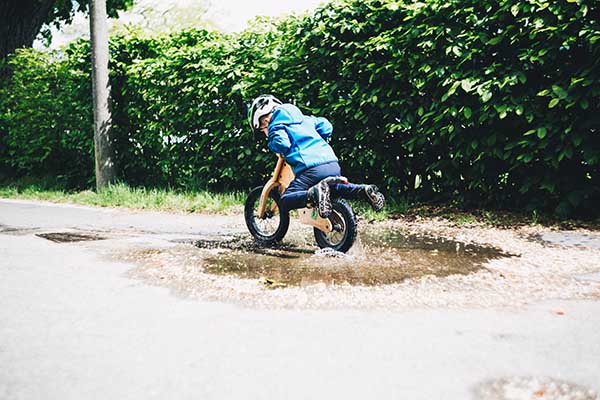 But our dedication to the environment doesn't stop there. We actively support organizations and initiatives that champion conservation efforts and promote sustainable cycling practices. Through sponsorships and partnerships, we collaborate with events that prioritize eco-friendly practices, inspiring cyclists to adopt a greener lifestyle and raising awareness about the importance of preserving our planet for future generations.
 We invest significant resources in research and development to ensure that our helmets are at the forefront of technological innovation. Through cutting-edge design and engineering, we create helmets that are lightweight, aerodynamic, and comfortable, providing cyclists with the confidence to push their limits while maintaining optimum safety.
Cycling With Loves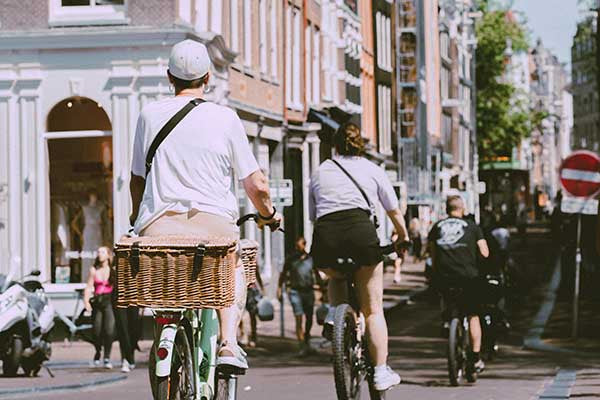 Beyond our products, we aim to foster a cycling community that encourages physical fitness and mental well-being. We organize group rides, charity events, and educational programs to promote a culture of inclusivity and camaraderie. By supporting and engaging with our customers, we strive to create a positive impact on their lives, empowering them to achieve their health and fitness goals.

In conclusion, our brand story revolves around the principles of environmental protection, sustainable development, a low-carbon lifestyle, and health and fitness. We are not merely a professional cycling brand; we are a movement, a force for change in the world. Through our commitment to these values, we aim to inspire cyclists everywhere to join us in forging a brighter, greener, and healthier future. Together, let us pedal towards a sustainable world, one revolution at a time.
365 Warranty Registration
Thank you for choosing a VICTGOAL product backed by the 365 Warranty. We are committed to providing exceptional customer service and ensuring your satisfaction with your purchase. By registering your product, you unlock the benefits of the 365 Warranty, which offers coverage for a full year from the date of purchase.
 Please provide necessary information: On the registration page, you will be prompted to enter certain details about your product and purchase. Typically, the information required includes your name, contact information, product model or serial number, and proof of purchase such as the receipt or invoice. Ensure that you have this information readily available before starting the registration process.
Benefits of the 365 Warranty:

Coverage: The 365 Warranty offers comprehensive coverage for a full year from the date of purchase. It protects against defects in materials and workmanship, ensuring that your product performs as intended.

Peace of mind: Registering your warranty provides peace of mind, knowing that you have a safety net in case of unexpected issues or malfunctions with your product. With the warranty in place, you can rely on our support and expertise to resolve any problems that may arise.

Customer support: As a registered warranty holder, you gain access to our dedicated customer support team. Our knowledgeable representatives are available to assist you with any questions or concerns regarding your product or warranty coverage.

Repairs and replacements: In the event that your product requires repair or replacement due to covered issues, the 365 Warranty ensures that you receive prompt service. Our goal is to minimize any inconvenience and have your product back in working condition as soon as possible.

Remember, it is important to complete the warranty registration process within the specified time frame from the date of purchase to activate your coverage fully. Failure to register your product may result in limited or no warranty protection.

At 365 Warranty, we value your satisfaction and are committed to delivering excellent service. Register your warranty today and enjoy the peace of mind that comes with knowing your purchase is protected.
Get any questions, please freely contact with VICTGOAL.
Email: cs@victgoal.com

Phone: +1 (225) 443-1059‬
Please leave those required information below
Your Name

Contact information

Order Number

Country of Purchase
Affiliate & Referral
Becoming our creators to share the VICTGOAL products that you loves . Get commission on your sales.
JOIN OUR AFFILIATE PROGRAM
Pedal for the Planet
ENVIRONMENTAL SUSTAINABILITY

We are committed to minimizing our environmental footprint. We actively promote sustainable practices, such as recycling, reducing waste, and using eco-friendly packaging materials. We also advocate for eco-conscious transportation methods like cycling and promote products made from sustainable materials


COMMUNITY ENGAGEMENT

We believe in building and supporting the cycling community. We actively engage with local cycling clubs, organizations, and events. We sponsor community rides, races, and fundraisers, fostering a sense of camaraderie and promoting the benefits of cycling for individuals and communities, leading a low-carbon lifestyle.

PHILANTHROPY ANDGIVING BACK

We actively participate in philanthropic initiatives and support charitable organizations that align with our values. Whether it's donating a portion of our profits to local cycling initiativesor contributing to causes that promote social and environmental sustainability, we believe in giving back to the community.
HELP CENTER
We are committed to providing exceptional customer service and ensuring your satisfaction with your purchase.